WAToday – A second Queensland casino is being investigated over an allegedly unlawful high-roller operation involving a Melbourne businessman who was paid to lure wealthy Asian gamblers from NSW and Victoria.
The Cairns Reef Hotel Casino resort has been drawn into the high-roller junket scandal already facing Townsville's The Ville Casino Resort, in a development that ramps up pressure on Premier Annastacia Palaszczuk to expand her state's gambling inquiry beyond The Star to all Queensland casinos.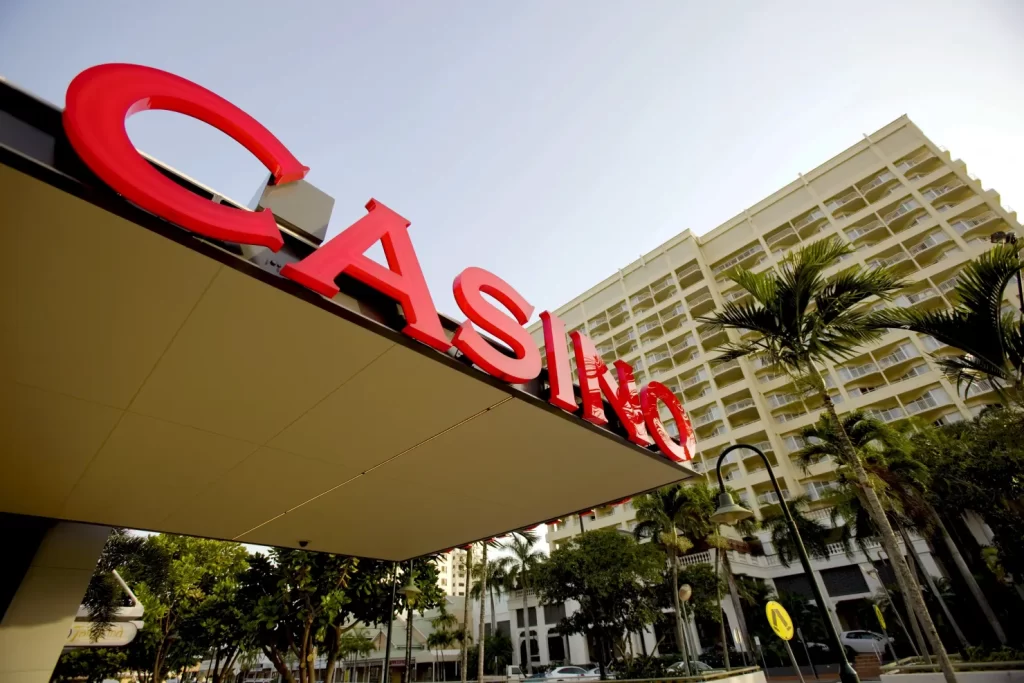 The revelations show how casino misconduct has moved across borders as regulators and commissions of inquiry cracked down on The Star and Crown in Sydney and Melbourne.
The revelations show how casino misconduct has moved across borders as regulators and commissions of inquiry cracked down on The Star and Crown in Sydney and Melbourne.
On Saturday, this masthead and 60 Minutes revealed how The Ville may have breached casino laws by allegedly repeatedly giving non-disclosed benefits – including cash and gambling credits – to an unlicensed high-roller agent in return for him directing wealthy Asian gamblers to the casino.
The chief executive of The Ville casino, Michael Jones, is also facing questions, with a leaked text exchange revealing he appeared to believe anti-money laundering and problem gambling controls that Crown Resorts was forced to introduce following casino crackdowns would drive punters to Queensland, where they would face less scrutiny.
Jones sent the text in February 2021 after a high roller told him Melbourne gamblers were "shitting themselves" because Crown was demanding high rollers provide proof of income.
In communications obtained by this masthead, Jones responded: "I heard that. Presents good opportunities for us because I've been told that many simply won't go to crown [sic] if they have to provide that disclosure."
High-roller agents, known as junkets, are paid by casinos to bring in groups of wealthy Asian gamblers.
The Ville scheme involves Melbourne restaurateur Lawrence Fu effectively operating at the Townsville casino as a de facto high-roller agent or junket without the necessary approval from Queensland's Attorney-General Shannon Fentiman or the gaming regulator.
Under Queensland's Casino Control Act, junkets that deliver groups of Asian gamblers to casinos must be vetted and approved to prevent criminal infiltration of the gaming industry.
Fu was paid by The Ville in cash, gambling points and other benefits as he brought groups of Asian high rollers to Townsville.
He confirmed he was not approved to run a junket but insisted he was not operating one. But he confirmed The Ville had paid him cash and given him other benefits, including paying for groups of gamblers to dine at his restaurant.
He also confirmed he had brought groups of his "friends" to gamble at The Ville but denied the benefits he was paid by the casino were in return for bringing Asian gambling tour groups. He said he was enriched by the casino as part of a "promotion" and "they pay everyone, not just me".
In a statement, the Queensland gaming regulator confirmed The Reef Hotel Casino in Cairns has joined The Ville in facing "an ongoing" closed-door regulatory investigation into the use of Fu as a shadow junket operator, in alleged breach of the state's casino laws.
The Reef, which is owned by hotel giant Accor and Casinos Austria International, is suspected of paying Fu with betting vouchers.
"Enforcement outcomes … can include but are not limited to penalties against casino operator via prosecution (particularly for serious matters) or penalty infringement notice," the Queensland gaming regulator said.
But the Palaszczuk government-commissioned public casino inquiry has no power to look at The Ville or The Reef because its jurisdiction extends only to The Star's Brisbane and Gold Coast casinos.
The inquiry is headed by former judge Robert Gotterson and is examining revelations by The Age, The Sydney Morning Herald and 60 Minutes about criminal infiltration of The Star's Sydney and Queensland operations, and improper use by The Star of junket agents.
The misconduct allegations facing The Ville mirror some of those at The Star, including allowing criminal identities to gamble and improper partnerships with junket agents.
A former high roller at The Ville, Paul Desmond, told this masthead and 60 Minutes that Jones, The Ville's chief executive, also offered to pay him to operate as a shadow junket, in a deal that later fell through. "They [The Ville] were offering a percentage if I could fill a jet [with high rollers to take to The Ville]. We had several talks. If I could fill a jet, I'd get a percentage of what the turnover was," Desmond said.
Investigators from Queensland's Office of Liquor and Gaming Regulation took a signed statement – obtained by this masthead – from Desmond that outlines the dealings between Desmond and Jones. The statement also details the text message sent by Jones suggesting The Ville was seeking to attract gamblers unwilling to deal with more onerous anti-money laundering vetting at Crown Resorts' casinos.
Jones and The Ville have not responded to detailed questions about Desmond's claims, the Fu scheme and allegations the casino allowed convicted drug dealers to gamble.
The Ville's owner, billionaire businessman Chris Morris, also did not respond to questions, although there is no suggestion he had knowledge of any impropriety.
In a statement, The Ville appeared to confirm it was the subject of regulatory investigations.
"In response to recent reporting … The Ville is unable to comment while matters are in the hands of the regulator," the statement said.
It also claimed "there are a number of factual inaccuracies in the media reports" but cited no evidence or example of any inaccuracy.
The revelations are increasing pressure on the Queensland government to expand the Gotterson inquiry.
The chief executive of anti-corruption group Transparency International, Clancy Moore, has joined leading anti-gambling campaigner Tim Costello to urge Gotterson to demand the power to scrutinise wrongdoing at The Ville and The Reef.
"These allegations show that the conveyor belt of criminals and shadowy figures gambling at casinos continues unabated. What's more, it points to the failure of proper due diligence by casino operators to ensure they are not being used to launder dirty money," said Moore.
"The Queensland inquiry must be broadened to shine a light on the Cairns and Townsville casinos and determine the extent to which the authorities were prepared to turn their back to suspicious behaviour."
The Reef declined to comment.
Link to the original news: https://www.watoday.com.au/business/companies/second-queensland-casino-faces-probe-over-high-roller-scheme-20220828-p5bdb9.html